The XenDirect screen for Release 3 is made up of the following primary screen areas:
Header: Top row of the page

Contains the User Profile, Sign Out, Workflows, and Utilities. Many of the Admin Menu functions from Release 2 are now located here.

Navigation Menu: Far left column of the page

Contains the Main Menu navigation. Release 3 only contains one menu.

Table Select Buttons: At the top of the page below the Header and above the Search

These buttons navigate the user to different data areas similar to the tabs in Release 2.

Search: Top of the page below the Table Select Buttons

Contains the primary and Advanced Search options. Not all data areas contain an Advanced Search option. Data areas with few records may not contain a primary Search option.

Results List: Bottom of the page below the Search


Displays the list of records resulting from a search. The list may display an initial set of records based on default settings.

This area changes to a Form View with data panels when entering Add or Edit mode.

Tool Bar: Between the Search and Results List

Contains tools related to the data area in the same way the blue Tool Bar did in Release 2.

Page Navigation: Lower right below (and above) the Results List

Bottom set contains page selectors, page counts, and rows per page option.

Top set contains page selectors, page counts, Refresh button, and a context-sensitive Help button.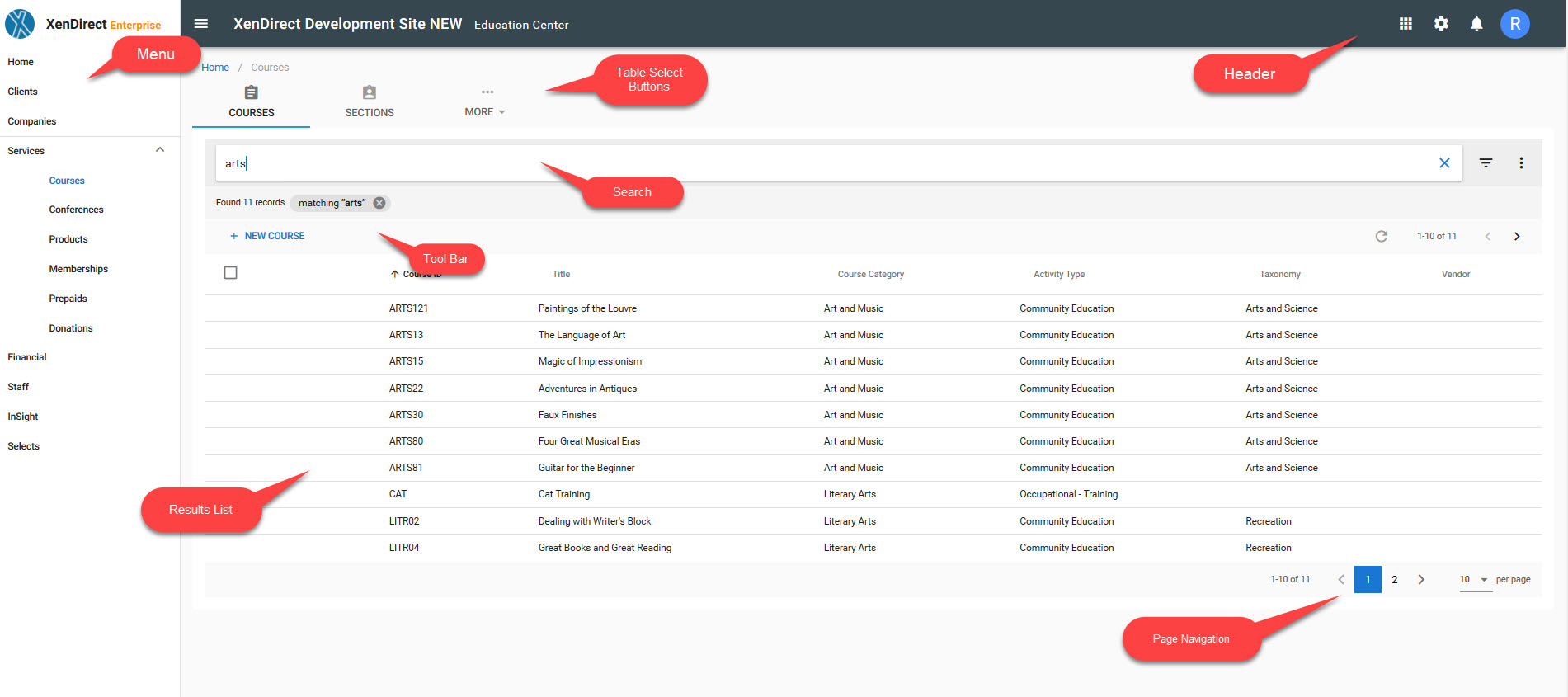 Although browser tools are available, they have little or no purpose in XenDirect. The browser's Back Button can be used, but it is suggested to use the internal navigation tools instead. The browser's Print button only handles page printing, not report printing.
---
Fix ASCII
Admin Menu > System Tools > Fix ASCII
For HTML fields, a Fix ASCII function exists to replace ASCII characters that may exist. This function replaces the ASCII with respective keyboard characters in the following tables and fields.
Branch (Refund Policy)

Course (Description)

Section (Featured Course, Email Append, Audience, Outline, Abstract, Alt Schedule, Alt Refund Policy, Alt Description)

Department (Description)

Merge Text and Email (Header, Alt Return, Body 1, Body 2, Closing)

Policy (Policy)

Program Group (Description)

Sessions (Invoice message)

Staff (Bio)


Instruction Boxes (Description)



There is no undue process for this function.
The current function replaces these ASCII codes. If you experience other ASCII codes, please submit a support ticket to add them.
' apostrophe or single quote

' apostrophe or single quote


¿ inverted question mark

" double quote character

" double quote character

" double quote character

  space

– short dash

— long dash but replacing with a short dash


& ampersand

í i with accent character over it

é e with accent character over it

® R with circle around it

™ superscript TM

ç lower case c with squiggle attached below

---
Related Topics
---